The Boys from Brazil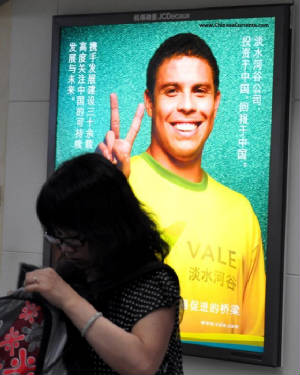 Ronaldo, playing again in China
The scene has been played out a thousand times before. The indignant player runs up to the referee who has just awarded a penalty, pleading "I handled it accidentally!". The shout is heard usually within a split second of the official pointing to the spot. But, for some reason Ronaldo Luís Nazário de Lima (thankfully, better known as Ronaldo) took more than three years to signal his protest.
Britain's Guardian newspaper reported in January 2007 that, "According to a series of Chinese papers, the Brazilian striker innocently posed holding a packet of Golden Throat Lozenges [at you might] at a dinner in Beijing in September 2003 when he and his Real Madrid team-mates were touring China." The report goes on to say that Ronaldo would be commencing legal action against the company. However, while Ronaldo was pleading his innocence ("Accidental, Ref... honest!"), a spokesman for Golden Throat Lozenges was crying "foul!": YWeekend, the website of the Beijing Youth Daily, reported that the company was claiming that it had paid Ronaldo US$300,000 for the right to use his image.
Whatever the facts, despite the implausibility of the association, Golden certainly went full-out to leverage the Ronaldo brand, which was then close to the height of its powers (not coincidentally, Ronaldo was near to the bottom of his weight range). A TV commercial and a long-running poster campaign, featuring the same
trademark grin
, ensured that the brand from Guangxi was catapulted into the spotlight. For followers of English football, this would be akin to Darlington (a club presently languishing at the bottom of the fourth division with zero points) hiring The Special One, Jose Mourinho, and getting into the Premier League (in terms of publicity at least).
What happened after the flurry of accusations is a mystery (to me at least). What I do know is that, earlier this year, in China's far-flung province of Yunnan, I saw a poster for Golden Throat Lozenges with a smiling Kaka – the latest Brazilian Footballing King (as well as Golden's newly-crowned Lozenge King). I saw the same poster design in Guangzhou a couple of months ago, on the side of one of the city's buses (this time I had my camera ready – see below). The King is dead, long live the King; but that said, it's far from clear whether Golden got rid of Ronaldo because there was indeed a legal dispute; or simply because he had become yesterday's star. Nor is it clear whether Kaka has been paid for his services, or if it's another "accident".
Talking of Golden… the incident involving "Golden Balls" (aka David Beckham) is far easier to fathom. Earlier this year, a Chinese company decided that he and two other alpha males would be the perfect spokespeople for their Viagra rip-off brand, 'USA Selikon'. Video footage of Becks playing football is intercut with scenes of him with his wife, Victoria (aka "Posh"), and rounded off with a Chinese voiceover that purports to be Mr Beckham thanking the brand for being the secret weapon with which he can satisfy Victoria. The TV commercial, [now removed from Youku, its host's website] then jumps to Sean Connery, who tells the viewers that, despite turning 70 this year, "with the help of USA Selikon capsules", "Barbara" praises him "for still being The James Bond, forever 25". Yesterday was actually his 79th birthday (a belated Happy Birthday, Sir Sean!) and the name of his wife is not Barbara, but, hey, why worry about the details.
Dressing up as a gladiator for Pepsi is one thing, but I'm sure that Mr Beckham draws the line way above lending his image to impotence-beating capsules. It goes without saying that no such deal was ever made; it's also clear that Selikon, the would-be famous brand, has not thought this through very well. Putting the legal niceties to one side for a moment, the implausibility of the association is such is that no viewer in their right mind would believe that Becks and Sir Sean would have actually endorsed the product. Indeed, according to Victoria, Mr Beckham would be the last person to need such medication: "I'm proud to see his penis 25ft tall," she reportedly told a US chat show host, referring to the series of super-size billboards on which her husband flaunts his revealingly-tight Emporio Armani underwear.
Trust plays a pivotal role in the relationship that people have with brands, particularly those brands that are ingested, so you have to conclude that Selikon (Sell-a-Con?) has shot itself in the foot, or perhaps a bit higher.
But what of Ronaldo? Well, these days he's playing for the Brazilian side Corinthians, and trying hard to win back his place in the national team in time for next year's World Cup in South Africa. He's also looking a lot trimmer than he was. In case you are thinking that his slimmer waistline is thanks to dietary discipline and a rigid fitness regime, then think again. If the report on the Xinhua website on July 30th (in which they quote Globo Esporte, a sports website) is accurate, then Ronaldo's tummy-tyre actually disappeared in less than one hour during a liposuction procedure, during which 700 millilitres of blubber were removed.
There are countless football fans who would love to see Ronaldo, who is perhaps the greatest player of his generation, return to the world stage. These days, he has another supporter, a corporate one, which will also be praying for a miraculous (he'll be 33 next month) return to the Brazil team that goes to Africa (where it has a significant commercial interest).
Africa may be a destination too far for him, but at least he's made it back to China... Last Friday, I was passing through Shanghai's Hongqiao airport, on my way back to Beijing, when I noticed the familiar trademark toothy grin. Wearing a lookalike Brazil shirt, Ronaldo was holding out the two-fingered V for Victory sign (or at least that's what I thought it meant). Had he and Golden kissed and made up? A closer look revealed that he has actually signed for a new sponsor, Vale, a Brazilian mineral-mining company. As well as the poster (above), Ronaldo appears in a television commercial for the China market, which can be viewed on on CCTV2, as well as Vale's own
website
. Ronaldo's "win-win" message is that: "Vale is investing in China and is also repaying China" (it has bought lots of Chinese cargo ships among other things).
Vale is the world's largest producer of iron-ore and is an increasingly important supplier of that vital mineral to China, so good public relations are clearly an important part of its China-strategy. Although, it has to be said, the vast majority of the millions of people in China who will be exposed to Vale's "aren't we wonderful" message will have no interest in the company whatsoever (when was the last time anyone went out to the shops to buy a bag of iron ore). The target for the airport poster of course is the one in every hundred or so thousand people passing through Hongqiao who is, in some way, involved in the negotiation of the price of iron ore.
Bloomberg reports that, following seven months of inconclusive talks, China has dropped its demand that Vale reduces its price by 45 per cent, and is targeting 35 per cent in the next round of negotiations. It's impossible to gauge whether the PR campaign is working; or if the controversy surrounding Rio Tinto, one of its two main competitors, is the more important factor in determining China's new negotiating stance.
Whatever the cause, after so much talking, and with so much still to be said, Vale must be hoping that the China representatives are fans of Golden Throat Lozenges.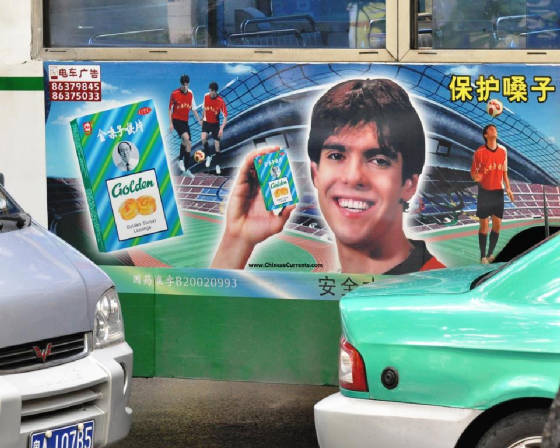 Kaka, Brazil's undisputed Footballing King, not to mention Golden's new Lozenge King