Animated Guangzhou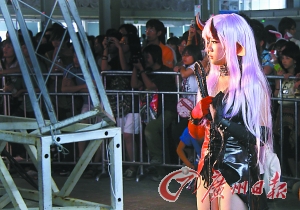 Living her favourite cartoon character
If you are fan of animation, comics, cartoon characters – or simply like the idea of dressing up in a pink frilly frock or perhaps a skin-tight black-latex bodice – then Guangzhou is the place to be this "Golden" week. The city is hosting the inaugural China International Cartoon Festival as well as the second-annual "Guangzhou-Hong Kong-Macao Anime Comics and Games Expo".
The Guangzhou Daily reports today that the Anime and Games exhibition attracted an enthusiastic crowd of more than 30,000 yesterday, the opening day. As well as the odd dominatrix (see photo), there were also famous Hong Kong animators in attendance to sign-autographs and entertain the crowds.
Huang Yulang, one of the Hong Kong "masters", was full of praise for the mainland's animators. He told the Guangzhou Daily that they had improved considerably (from the days when Japanese animation-style was copied) and were now producing excellent original work.
Animation is big business in Guangzhou. According to Xu Zhibiao, the city's vice-mayor, annual investment in the sector is 180 million yuan (US$26M). The city is home to more than a 100 "animation" companies employing 15,000 workers in a thousand workshops; as well as a dozen or so "comics-training" institutes – all of which contribute more than 10 billion yuan to the city's GDP (more than half of the sector's contribution to national output).
The show reel below, produced by one of those Guangzhou animation companies, is certainly good; but the 175-hectare "cartoon industrial park" that is now under construction will ensure that the virtual bar is raised even higher.