Beijing's Wild West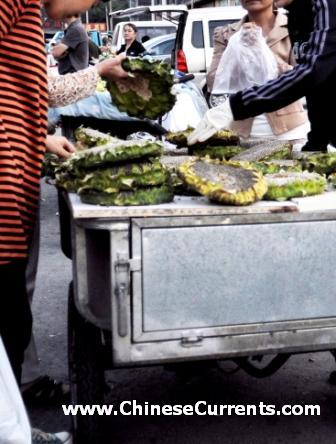 Sunflowers for sale
I woke up on Monday realising that something had changed. As I opened the curtains, my eyes took some moments to adjust to the unexpected onslaught of brilliant sunlight. Not only was it a crisp ten degrees cooler than the previous day, but the sky was bluer than I had seen in Beijing for quite a while. Autumn had, at long last, arrived. Thoughts quickly turned to getting on my bike, because days like this in Beijing should not be spent indoors.
I've often wondered what it's like to cycle along the fulu (the service road) of the G6, the Jing-Zang (Beijing to Tibet) highway. Not all the way, mind (greater Tibet starts more than 2,000 km from central Beijing), but far enough to feel that I had made the most of the day. As it was, a strong head-wind, a 500+ metre slog up the mountains (that's altitude-shift not distance-covered in case you are wondering), my general lack of fitness, and the cycling-shorts version of nappy rash conspired to restrict my Westward Ho! to a meagre 75km. Although 75km north-west from central Beijing is still a very long way from the border with Hebei, it is far enough out to see a different side to Beijing – a wonderfully-verdant wild side.
The sun was still shining this morning. Thoughts of getting on my bike for another 150km trek melted away when I failed an early-morning fitness test (as anyone who has suffered cycling-shorts-rash would testify, time is the only healer). Inexplicably, the urge to go westward was still strong. Coincidentally or not, I then remembered that, almost 10 years to the day, I had travelled by subway to Pingguoyuan, Beijing's westernmost subway station. 10 years on, it still retains this accolade. Most other things about the Beijing subway have in that time, however, changed beyond recognition. When I rode there in early September 2002, there were only two subway lines. Lines one and two funnily enough (the nomenclature is not as obvious as it seems, as line 13 was the third line to open, a few weeks after my ride out west to Pingguoyuan). Now there are 15 lines.
The first line was completed in time for the National Day 20th anniversary celebrations of 1st October 1969, but would not open to the general public until 1981 (until then only certain cadres were allowed to ride on the subway). In those days, it cost ten cents (one-tenth of one yuan) to travel to Pingguoyuan from central Beijing. These days it costs 2 yuan to travel there from any station on any of the 15 lines, no matter how far you travel (the fare was standardised at this level in October 2007; before that, prices had ranged between 3 and 7 yuan depending on the line and number of transfers).
And so today, thanks to the Beijing city government's very generous subsidy, I rode for two hours and 30 stations, across four different lines, all for the price of a 550ml bottle of Nongfu water (the most popular bottled water in Beijing, and also one of the cheapest). A taxi-ride there during rush "hour" would have cost 300 yuan and have taken not far short of 3 hours, according to the taxi driver who would take me back to Pingguoyuan station following my three-hour walk-about there.
Perhaps tempted by their in-station and on-train ads (as with many consumers, I don't like to admit I'm influenced by these things), I couldn't resist the lure of the KFC sign that greeted me as I emerged from the station. "We've been here a few years," answered the waitress when I asked her when they had opened. The vagueness of the answer prompted me to ask someone else, who was also unable to tell me when KFC opened its doors in Pingguoyuan. I couldn't remember seeing it in 2002 (KFC had fewer than 100 restaurants in Beijing at the end of that year, compared with 300 now), but I couldn't be sure it wasn't there. But I do remember that, in 2002, the place was far less developed than other Beijing suburbs I had visited. I had noted that Pingguoyuan was a frontier outpost, where the city pushed against the countryside. There was no sign of that on the main street today; which was in a word "unremarkable". One can see the same level of development, and get a similar vibe in the vicinity of most Beijing subway stations.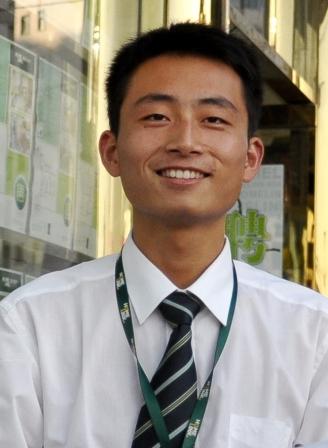 "We've got something at every price"
Even the property prices were unremarkable in that the property prices there were every bit as ridiculously high as the prices in most places in Beijing. I lingered a little too long at the window of one of the many estate agents' offices I walked past. "Can I help you?" asked an excited salesman, running out to greet me. "Just looking," I replied. "We've got something at every price... what do you want to spend?", continued the sales pitch. "The prices are crazy..." I said, "...just as high as in central Beijing". Mr Bai had a prepared answer: "That's because we are on
"yihao xian"
(Line 1), the most important subway line in Beijing, with a direct link to Tian'anmen." Fair enough, Tian'anmen West subway station is indeed just less than 30 minutes and 21km from Pingguoyuan station, but the price of 3 million yuan (US$473k) for a 111 square-metre two bedroom apartment in this part of Beijing was astonishing nevertheless.
I walked on, puzzling over the puzzle that continues to puzzle: how long can Beijing property prices remain so ridiculously high? As I turned a corner, I saw something that took my mind off the property-price conundrum. The scene, although also unremarkable, was a pleasant break from the urban-monotony of Pingguoyuan's main street. A line of street vendors was doing a brisk trade. Except for a couple of truck-drivers selling water melons, all of the vendors were selling their produce from the back of a tricycle-barrow. I was struck by the diversity and colour of the fruits and vegetables on offer, as well as by the vibrancy of the scene. Small groups of shoppers surrounded each of the twenty-or-so vendors, haggling furiously. A world away from the depressingly-quiet, customer-free estate-agents' offices, here was a scene of noise, excitement, and frenzied economic activity. Clearly, bargains were being snapped up and, unbeknown to the buyers or sellers, inflationary pressures in the wider economy were being further eased.
As interesting as the scene was, it was far from remarkable, because street vendors ply their trade from tricycle-barrows all over Beijing. I spoke to one of the traders, a woman in her late 20s, who was appropriately-enough selling apples. "At last, I've found apples in Apple Garden [the literal translation of Pingguoyuan]," I said with a smile. She was gracious enough to laugh at my joke, before turning her mind to the serious business of selling some apples to me. No sooner had she asked me how many apples I wanted to buy, a shrill cry rang out: "Chengguan!!"
There was a moment's silence that reminded me of something I have witnessed at bird colonies when the cacophonous mass falls silent for one second only. It's called a "dread". Dreads can go two ways. The birds either overcome their collective anxiety, returning to their garrulous ways as if nothing had happened; or they explode into the air. The Pingguoyuan "dread" was followed by its own explosion of activity.
The apple-seller, as if her livelihood depended on it (which it did), moved from the back of her barrow to the handlebars of her bike with practiced dexterity. "Sorry, got to go," she said matter of factly. And she was off; as too were all of the street vendors. If tricycle-barrow racing were an Olympic sport, then Pingguoyuan would be high on the Chinese selectors' list of places to visit. And the apple-seller with red hair, the fastest off the mark, would be weighing up offers from a queue of corporate suitors eager for her to be their spokesperson.
The Chengguan are indeed dreaded. They are the street-vendors' worst nightmare. The word literally translates as "city-management", but street-vendors use the term to describe the officers who work in that department (in these situations, the word is simply a call to action... to run away as fast as possible). Chengguan are there to stop street-vendors trading without a licence; it's also their job to ensure that the people whose properties are to be demolished, don't delay the arrival of the wrecking ball. In short, "enforcer" better describes what they do. Not surprisingly, street vendors have many other words for The Enforcers.
I looked to my left, where about 20 enforcers were leaping out of their vehicles; vehicles marked with characters that street-vendors fear to see: Chengguan Zhifa (City-management Enforcement). 20 enforcers against an equal number of street vendors. But 18 of those vendors were now heading for the Western hills so to speak. There was no attempt to chase them. Instead, The Enforcers descended on two vendors only, tearing their grips from the handlebars of their tricycle-barrows, which were then loaded onto the back of their pick-up trucks. There was no sign that the two targeted vendors had been arrested though. The Enforcers, it seems, were only interested in taking away their tricycle-barrows and stock of vegetables.
One of the street-vendors was putting up a fight. The crowd that had now gathered was treated to the sight of a little old woman beating back the gang of Enforcers with nothing more than her tongue. She cursed them with all her might. And, riled to the point of boldness, she drove into their midst. For several seconds the ruck swayed from side to side. Incredulously, she emerged clutching a heap of Chinese cabbages that she had obviously liberated from the back of an enforcer's truck. She stormed past me, still cursing the uniformed officers, who did nothing to stop her striding away with her cabbages. A wild, surreal scene indeed.
Moving on, I pondered over another imponderable. Why did The Enforcers target the old lady and one other chap (who also fought back despite the overwhelming odds against him, and despite being filmed by one of the uniformed officers), and not go after any of the fleeing street-vendors, many of whom would have been a much softer target, and most of whom carried a far more valuable stock of fruit and vebetables? I hadn't worked out the answer by the time I spotted another line of street vendors, about a mile down the road.
"Do you want to buy one of my sunflowers...?" asked a small voice. "...They're only 5 yuan, and the smaller ones are 4 yuan... They're great; go on, try a seed; they're so tasty". How could I resist. Small Voice then asked me where I was from. "Wow, you're British..." she gushed, "...How wonderful... I'm going there in 8 days... I'll be studying finance at the University of Bedford... for 2 years."
Flying to Britain in 8 days and studying there for 2 years?? Now, let's take a step back here. Street-vendors are all economic migrants from the countryside, right? They live hand-to-mouth, earning just enough to survive and, in good months, perhaps sending back a few yuan to their families in some far away mountain village... right? Clearly wrong. Small Voice is from Pingguoyuan, and holds a coveted Beijing hukou (the right of residency here). Her parents, she told me, run a (licenced) vegetable store close by. She contributes to the family's coffers by selling food and vegetables from her tricycle-barrow. But how many fields-full of sunflowers and rows of vegetables would she and her parents have to sell to be able to afford to study in Britain for 2 years I wondered.
The answer has nothing to do with vegetables, and everything to do with the same property bubble that has now also enveloped Pingguoyuan. Small Voice told me that, for years, her parents had owned and rented-out two small apartments in Pingguoyuan. They had sold one of the apartments to finance their daughter's two-years of study in Britain.
But she looked far too young to be going there to study for a Masters or PhD. She explained that she was actually in her first year at the Chinese Agricultural University in Beijing, and that her university was linked to the University of Bedford. Half of her four years as an undergraduate would be spent at Bedford. I watched the Small Voice as she patiently negotiated with the woman in the photo, before striking a deal that was good for both of them. Impressed by her social and business skills, I concluded that she was destined for great things in the field of finance, the subject she was reading. Clearly, her parents had made a wonderful investment in all of their futures by enabling their daughter to turn her face towards the sunlight of international study.
Talking of financial matters, what was the cost of my day trip to Pingguoyuan I wondered? It was certainly a cheap day out: The subway cost 4 yuan (not bad for two two-hour rides); I spent 31 yuan at KFC; 3 yuan for a bottle of Minute Maid pulpy; 1 yuan for an Yili ice lolly; and 10 yuan for the taxi to get me back to Pingguoyuan station following my excursion. That's 49 yuan, which is marginally less than a pint of Guinness at my favourite Irish pub in Beijing. Cheap maybe, but nowehere near as cheap as my day out cycling to and from the western mountains on Monday, when I spent the grand total of 28 yuan.
Which all goes to prove that the only wild prices in this part of Beijing are those in the estate agent's window.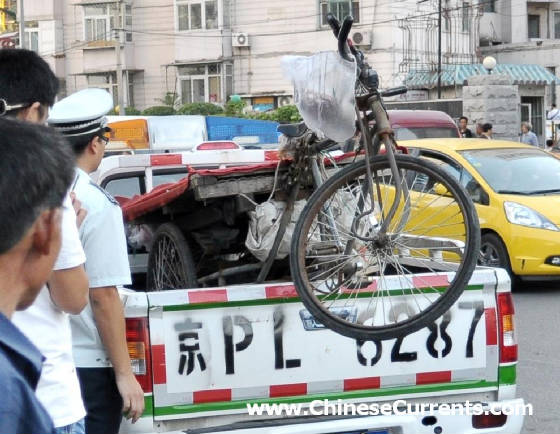 Pedlar without pedals - a street vendor's tricycle-barrow is taken out of service