Bad Air Days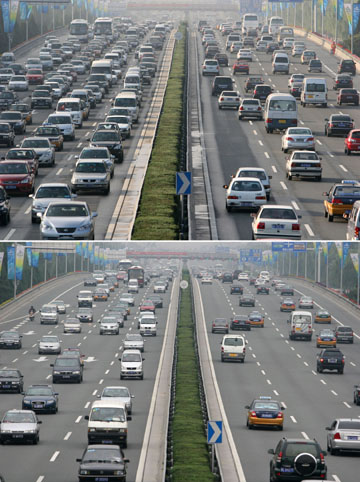 Last day of "Olympic rules" on the 4th ring and the first work-day of no restrictions (China Daily)
21 days. That's the timeframe between the ending of the two-month long traffic restrictions – imposed to improve air quality during the Olympics – and the start of a new regime of controls. From today, car owners will "take turns" to leave their cars at home for one day a week: Those whose number plates end with 1 or 6 are forbidden from going within the 5th ring road on Mondays; 2 or 7-ending licence plate-holders will have to make alternative arrangements on Tuesdays; 3 or 8-holders on Wednesdays; 4 or 9ers on Thursdays; and those with the 5 or 0 as a last number will find it more difficult getting back home from work on Friday evenings.
The new restrictions – that will be imposed for a six-month "trial period" – don't apply during the weekends, but that's not much comfort for the millions of drivers who depend on their vehicle for getting to and from work. The new restrictions have "sparked an outcry from car owners, many of whom complain it is 'unfair'", reports Xinhua, the official Chinese news agency; which goes on to say that, of the online comments posted by 2,400 people on Internet-portal Sina.com within two hours of the announcement of the new ban, "very few postings were supportive of the ban". Or, in other words, except for a few non-drivers who bothered to write in, everyone is hopping mad.
The traffic flow of negative online comments will undoubtedly become far heavier if the threatened supplementary regulations are also enforced. Beijing's environmental protection bureau's deputy director Du Shaozhong told the China Daily that "the city will adopt stricter vehicular restrictions during periods of heavy air pollution". An air pollution index of 300 or more is the trigger, at which point Beijingers will be given two days notice of the return to the Olympic-period's odd/even number plate rule, which reduces the number of private cars by 50 per cent (see photo).
Guo Jifu, director of the Beijing Municipal Transportation Development Research Centre, estimates that car numbers in Beijing will rise by two million in the next four years – to 5.4 million cars. Assuming that the recent slowdown in car sales doesn't continue, and the figure quoted by Mr Guo turns out to be correct, it's hard to imagine that things will ever get any better for Beijing's beleaguered car owners.
As average income increases and as more people move to the suburbs, car sales are bound to follow the same upward curves.
Expect, then, to see more measures imposed that are designed to curb usage (and reduce demand). The Beijing motorist is likely to face higher car taxes; more expensive fuel; more restrictions on when and where he or she can drive; more bus-lanes; higher city-centre parking fees; and even a congestion charge. No doubt that the governments – and car-owners – of other cities with similar problems will be watching closely.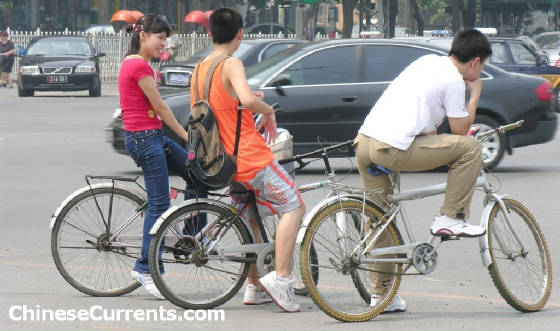 "I dream of having a car that I can drive on a Friday"