Exotic Flavours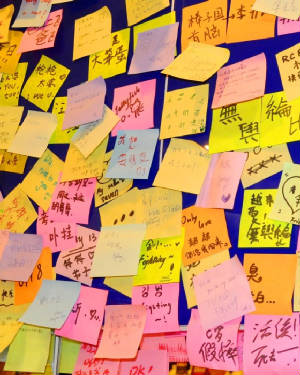 High school students' message board
"What flavour would you like?" enquired Ms Zhang.
"What flavours do you have," I asked. I stood open-mouthed as she reeled off an impressive list of exotic flavours – so exotic that I had no idea what half of them were. Of the ones I did have some idea about, the Hami melon flavour was the most enticing.
"Are the Hami melons from Xinjiang," I asked. "I guess so," she said, "Where else would they be from?" Her brusque riposte was exactly what I deserved (serves me right for trying to show off that I actually knew that Hami is a town in Xinjiang).
She handed me the Hami ice cream cornet. "What do you think?" she asked. I wanted to say it was good, but with a mouthful of ice cream I had to make do with nodding enthusiastically.
I must confess that the reason I had gone in to the "Aike Gelato Italiano" (literally: Love Customers Italian Ice Cream) shop was to find out about the post-it notes on the wall. As I had been walking by, the sight of hundreds of brightly coloured post-its had stopped me in my tracks. "Who had put them there, and what did they say?" I wondered. The three yuan I had just paid for the ice cream had also bought me the opportunity to find out the answers to these questions.
Ms Zhang told me that most of her customers were from the high school opposite, and that she encourages them to decorate her walls with post-it note graffiti (she supplies the post-its, in several different colours). "What do they write about," I asked. She looked at me as if to say what a silly question, but answered it nevertheless. The messages that her 15, 16, 17 and 18 year-old customers had pinned up mostly fall in to two categories. Love notes, it seemed, were the most popular leave-behinds (for the girls). While "fighting talk" was the boys' preferred subject. "I guess teenagers are the same the world over," I joked.
"Why did you decide to open an ice cream shop," I asked. "I live nearby and was looking to open a shop in this area after the one I had before (a clothes boutique) was demolished." I knew what she meant without asking. Chengdu, along with all the other Chinese cities, is busy knocking down old neighbourhoods and replacing them with shiny new apartment and office blocks, shopping centres, and arcades. Ms Zhang's clothes shop was one of many thousands of houses and businesses that had been sledge-hammered to the ground (cheaper than bulldozers) in the name of modernisation and economic development. But, rather than feeling sorry for herself and thinking about how good things used to be, she (and countless others) had bounced back and had gone on to better things.
Indeed, Ms Zhang's business sense is highly developed. She told me that the school opposite is one of the top high schools in Chengdu. As well as high-achieving students it also counts Li Peng, the Chinese premier from 1987 to 1999, and adopted son of Zhou Enlai, Mao's right-hand man, as one of its alumni.
The "quality" of the school is an important consideration for any would-be ice cream shop owner in its proximity, because the kids who attend the "best" high schools tend to have richer parents than kids who attend less-acclaimed schools. That means more pocket money and therefore more money for them to spend on ice cream. Hence the move up-market to relatively premium-priced Italian ice-cream.
But Ms Zhang thinks they deserve their treats. She told me: "I feel sorry for them. They are under so much pressure. The gao kao [university entrance exam] is so difficult, and this school strives to be the best, so the kids have to work even harder. They start school at 8am and don't finish until 9pm. The time they spend here [in her shop] is precious to them." I could sense that her customers were important to Ms Zhang for reasons other than their their purchasing power.
She saw that I was about to sit on one of the high stools next to the post-it wall. "Be careful...," she said, "...that one's broken." Ms Zhang went on to tell me the story of how one of the kids had accidentally broken it last week. The student had been really worried because she would not have been able to pay the replacement cost (Four months ice cream money I calculated). "…But I told her not to worry...," she smiled, "...After all, we were all young once."