You can't stop our voice
Tuesday, 27th October, 2020
Nike's 'You can't stop our voice' campaign urges the 70 million young people in the US use their vote.
On-the-ground action includes a partnership with Lyft that offers a $10 discount on a ride to a polling station in Atlanta, Baltimore, Chicago, Houston, Memphis, Miami, Milwaukee, and Portland. Details can be found at nike.com/vote which has lots of useful information including a voting guide.
Silencing the Rumble
Monday, 21st September, 2020
How refreshing to see a celebrity footballer in the news for the 'right' reasons.
In June, Marcus Rashford — who had already helped raise £20m for FareShare, the UK's largest food redistribution charity — wrote an open letter to MPs to plead for the food voucher scheme (in lieu of free school meals) to be extended into the summer holidays.
This heartfelt activism led to the payment of £120m worth of vouchers to the families of the 1.3 million eligible children.
As well as winning over the UK government, Mr Rashford's powerful retelling of his own experiences as a kid on free school meals, knowing "what it's like to be hungry", has succeeded in putting the plight of hungry children into the public consciousness.
The cause gained further momentum when, on the 1st September, Mr Rashford announced that he, FareShare, the Food Foundation, and several famous brands in the food industry had formed the Child Food Poverty Task Force, whose aim is to put an end to child food poverty in the UK (#ENDCHILDFOODPOVERTY).
At the time of writing this (1pm on the 21st September), the brands on the task force's team sheet are: Aldi, Asda, Co-op, Deliveroo, General Mills, Greggs, Heinz, Iceland Foods, Kellogg's, Lidl, McDonalds, M&S, Mars, Nestlé, Sainsbury's, Tesco, and Waitrose.
All of these brands have a track record of supporting FareShare or other charities whose work helps to fight food poverty.
Happily, Mr Rashford's campaigning is making brand-actions in this area resonate louder than ever. The impact of these actions is further amplified by clear, compelling messaging, underpinned by powerful creativity.
Heinz's 'silence the rumble' animated film, created by BBH, ticks all these boxes. It tells the engaging story of Jess and her school-day battle against the dreaded 'Rumble'.
Marcus Rashford, always keen to shout-out the actions of the brands on the task force, was impressed enough to tweet the 90 second film to his 3.3 million Twitter followers, with the message:
"Thank you @HeinzUK for partnering with Magic Breakfast to #silencetherumble."
Replying to this tweet, @sjcnj was moved to write, "Oh Marcus, that's spot on. Slightly brings a tear to my eye... ".
I'm sure that @sjcnj speaks for many.
I am also sure that the leaders behind the food-industry brands that have not yet supported the cause will now be more likely to step up to the plate.

References:
https://fareshare.org.uk/
https://foodfoundation.org.uk/
https://www.magicbreakfast.com/news/heinz
https://www.heinz.co.uk/silencetherumble
https://www.nestle.co.uk/en-gb/media/pressreleases/allpressreleases/nestle-uki-and-marcus-rashfords
https://www.ft.com/content/a538959e-ce56-4054-ab90-69e9c0a43018
https://www.ft.com/content/e5061be6-2978-4c0b-aa68-f372a2526826
https://www.campaignlive.co.uk/article/heinz-silence-rumble-bbh-london/1694718
https://www.newfoodmagazine.com/news/118354/uk-food-giants-join-rashford-to-form-child-food-poverty-task-force/
https://www.retailtimes.co.uk/mars-food-proudly-joins-marcus-rashfords-child-food-poverty-task-force/
https://www.retailtimes.co.uk/general-mills-joins-marcus-rashfords-child-food-poverty-task-force/
https://www.tes.com/news/marcus-rashford-calls-free-school-meals-expansion
https://twitter.com/MarcusRashford/status/1306144432690024449


Rugby's Big Return
14th August, 2020
To celebrate the return of Gallagher Premiership Rugby, Taylor Herring came up with a big idea in more ways than one... to paint the faces of three of the game's most exciting players onto the canvas that is Twickenham's hallowed turf. Then came the hard work. After 100 hours of planning, close to 200 hours of artistic toil, and the use of 1280 litres of biodegradable paint, the UK's largest painting was unveiled.

Harlequins' prop Joe Marler, one of the chosen three, was both "ecstatic" and "euphoric" that his face was "being immortalised". Continuing his typically deadpan tongue-in-cheek delivery, he was quick to point out: "Even though they say it's being immortalised, that's not really true is it. Coz it will just go when they mow it next."

In the meantime, news of the giant painting was reported in several national newspapers, among more than 200 pieces of media coverage.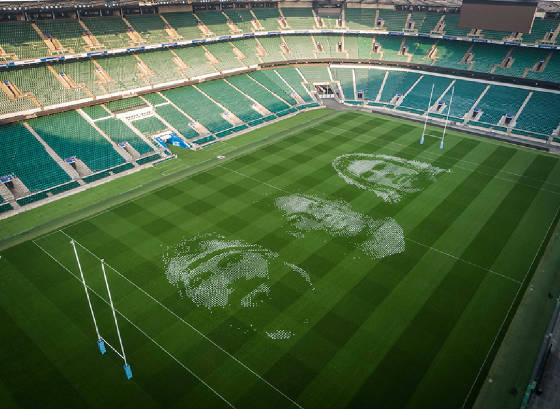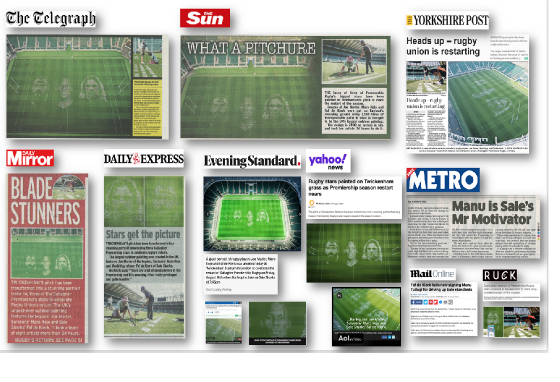 Giant pitch portrait of Premiership Rugby stars unveiled at Twickenham to mark long-awaited restart of the season. from Taylor Herring on Vimeo.
Creature Discomforts: Life in Lockdown
18th July, 2020
Big ideas stand the test of time. The idea of using 'claymation' model animals with human voice-overs to strike an empathetic chord was famously (if you're British and of a certain vintage that is) adopted in 1990 to promote the use of electric central heating.
The concept was inspired by 'Creature Comforts', which earned Nick Park, its creator, the Oscar in the 'Short Film (Animated)' category at the 1991 awards. This was the first of his four Oscars, so far. Another of his creations, Wallace and Gromit: A Grand Day Out, was also nominated in the same category in the same year.
Fast forward 30 years and claymation-lookalike zoo, circus, and aquarium animals are again raising the awareness of their plights – this time using the voice-overs of Brits talking about lockdown, and its effects on their lives.
In the first scene, the tigress says, "I think there's been times when you feel, just a bit rubbish and just feel a bit sorry for yourself. Her mate, an Eastenders' pub-landlord soundalike, retorts: "I think that's what living with me 24/7 gets ya." "Yeah!" adds the tigress even before he finishes the sentence.
Another scene features an elderly circus elephant, standing alone inside a dingy, patched-up Big Top. Speaking for many in these uncertain times, she laments: "You wonder just how much longer it's going on for, though, don't you."
The film was made for the Born Free Foundation, which campaigns to "Keep wildlife in the Wild".



Creature Discomforts
Client: The Born Free Foundation
Creative agency: Engine
Created by: Pete Ioulianou and Ollie Agius
Directed by: Peter Peake
Production company: Aardman Animations
Creature Comforts
Client: Electricty boards' Heat Electric campaign
Advertising agency: GGK
Directed by: Nick Park
Creative Director: Nick Fordham
Art Directors: Phil Rylance, Newy Brothwell
Writers: Paul Cardwell, Kim Durdant-Hollamby
Awards: More than you can shake a stick at.
Creature Comforts – the short film
Idea by: Nick Park
Directed by: Nick Park
Produced by: Sara Mullock, Aardman Animations
Model & Sets by: Michael Wright, Greg Boulton, John Parsons and Cliff Thorne.
Animal Sculptures by Debbie Smith.
Photography by David Sproxton, David Alex Rideett and Fred Reed.
Interviewer: Julie Sedgewick.
Edited by: William Ennals.
First aired:15th July 1989 on Channel 4
References:
Campaign, Pick of the Week, Born Free plays to a captive audience, by Jennifer Small, 30th July 2020.
Campaign, Born Free channels lockdown anguish to highlight animal captivity, 24th July 2020.
https://www.oscars.org/oscars/ceremonies/1991
https://www.bornfree.org.uk/about-us
https://en.wikipedia.org/wiki/Creature_Comforts
https://aardman.fandom.com/wiki/Creature_Comforts_(short_film)
You're Not a Salmon
Kitkat, 2003
Who better to cast as KitKat's 'break philosoper' than Jason Statham, who played Bacon in Lock, Stock and Two Smoking Barrels (1998). Statham recounts the painfully arduous journey of the animal that is spawned to strive, before alerting viewers to the dangers of trying to emulate this.

Year: 2003 (first aired in late February or early March).
Starring: Jason Statham
Client: Nestlé
Agency: J. Walter Thompson
Brand Tagline: Have a break, have a KitKat
Brand Tagline Copywriter: Donald Gilles, JWT, 1957.

'Saint George'
Tango, 1997
"The customer is always right." Ray Gardner, Spokesperson for Tango, doesn't agree. At least, not when it comes to an exchange student having the temerity to not like Blackcurrant Tango as much as the brand's other flavours. Rather than writing back, Ray goes that extra mile to show that action speaks louder than words.


First aired: 17th October 1997
Starring: Ray Gardner (playing Ray Gardner)
Client: David Atter, Tango
Agency: HHCL & Partners
Creative idea and writing: Chas Bayfield & Jim Bolton
Film Director: Colin Gregg
Agency Producer: Pete Muggleston
Agency Planner: Dave O'Hanlon
Account Director: Minnie Moll
'The Battle of Naseby'
Weetabix, 1989
14th June 1645, Naseby, Northamptonshire, England. The Royalist Army faces off against Oliver Cromwell's Parliamentarians. A lone rider gallops toards the waiting enemy's long line of infantry. He brings news. News that would change the course of history.

Year: First appeared in 1989
Copywriter: Paul Weinberger
Art Director: Rod Waskett
Director: Paul Weiland

'Boy on the Bike'
Hovis, 1973
Hear the opening bars of Dvorak's New World Symphony and what's the first image that pops into your mind? The thoughts of Brits of a certain age, like me, are likely to be a long way from the New World and the imagery that inspired Dvorak to write the symphony in the 1890s.
Far more likely, the grainy, desaturated images will be of a flat-capped delivery boy, laden with freshly-baked Hovis bread, struggling to push his bike up a cobblestoned, steep hill.
The TV commercial was directed by Sir Ridley Scott, who still talks fondly of it and the other four commercials he shot for the campaign. The series was created by CDP's Geoff Seymour, whose creative genius propelled the ads into popular culture.
Indeed, it was Seymour's track-record that persuaded Scott to sign-up for the series. "Anything that Geoff Seymour wrote I very much paid attention to because he was kind of special," Scott told Marketing Week in 2018.
Talking of special, the tag-line Seymour wrote for the series, 'As good for you today as it's always been', is one of the all-time greats advertising-lines. Today, the line that has done so much for the brand lives on in slightly shorter form, 'As good today as its always been'.
The postive impression that 'Boy on the Bike' made on the minds of millions is such that, in 2019, it was voted 'Britain's most iconic and heart-warming' advert. To celebrate the accolade, Hovis commissioned the British Film Institute to digitally remaster the advertisement. Also, 46 years on from their orignal recording of the New World Symphony, the Ashington Colliery brass band was invited back.
And, of course, the end 'pack shot' of the Hovis loaf was long past its sell-by date, so was replaced by one with the latest packaging.
How does it compare with the original?
For me, it's as good today as it's always been.

Agency: CDP
Created by: Geoff Seymour
Director: Sir Ridley Scott
References:
https://www.hovis.co.uk/our-story
https://www.marketingweek.com/sir-ridley-scott-golden-age-advertising/